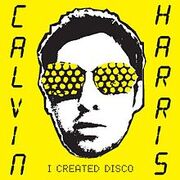 I Created Disco is the debut album by Scottish recording artist Calvin Harris. It was released on 15 June 2007 by Columbia Records, preceded by the singles "Acceptable in the 80s" and "The Girls", which reached numbers ten and three on the UK Singles Chart, respectively. The album debuted at number eight on the UK Albums Chart with first-week sales of 16,121 copies.[1] On 23 May 2008, it was certified gold by the British Phonographic Industry (BPI) for shipments in excess of 100,000 copies.
[edit]Writing and recordingEdit
Writing and recording for I Created Disco started in 2006 when Harris moved back to his hometown of Dumfries, Scotland after living in London for two years. All recording and producing for the album took place on an Amiga computer with audio tracker OctaMED [2] in Harris's home studio, called Calvinharrisbeats Studio. All fourteen tracks on the album were written, produced and performed solely by Harris.
Preceding the release of the album, Columbia released two singles, "Acceptable in the 80s" and "The Girls", and Harris and his band was the supporting artist for both Faithless and Groove Armada on their live arena tours in spring 2007. The album cover was also used to promote the fourth generation iPod Nano in yellow.
[edit]Critical receptionEdit
I Created Disco received mixed to average reviews from music critics. At Metacritic, which assigns a normalised rating out of 100 to reviews from mainstream critics, the album received an average score of 59, based on 17 reviews.[3]
All songs are written and composed by Calvin Harris. 
No.
Title
Length
1.
"Merrymaking at My Place"  
4:09
2.
"Colours"  
4:01
3.
"This Is the Industry"  
3:56
4.
"The Girls"  
5:15
5.
"Acceptable in the 80s"  
5:32
6.
"Neon Rocks"  
3:48
7.
"Traffic Cops"  
0:54
8.
"Vegas"  
5:41
9.
"I Created Disco"  
4:07
10.
"Disco Heat"  
4:30
11.
"Vault Character"  
0:08
12.
"Certified"  
4:06
13.
"Love Souvenir"  
4:18
14.
"Electro Man"  
4:58
| | |
| --- | --- |
| [show]Italian iTunes bonus tracks[17] | |
Calvin Harris – vocals, arranger, instrumentation, producer
Guy Davie – mastering
[edit]Release historyEdit
Ad blocker interference detected!
Wikia is a free-to-use site that makes money from advertising. We have a modified experience for viewers using ad blockers

Wikia is not accessible if you've made further modifications. Remove the custom ad blocker rule(s) and the page will load as expected.